I have always loved granola just because of its name but thankfully they changed the original name from Granula to Granola. The "o" sound rings more melodic, warmer, happier, more inviting and more appetizing.
We thought about many different snacks to sell at our store. We wanted something healthy, easy to make in bulk and easy to store and transport. Of course, granola came across my mind, and it is clearly the winner.
So here it is, the first No Waste To Go Granola, sweetened by our home-made apple sauce and honey.
STEP 1. Making Homemade Apple Sauce
4 apples
1 cup of water
1 tsp of cinnamon powder
1 tbs apple cider vinegar
a pinch of nutmeg powder
Peel, core, and dice the apples. Cook them with water, cinnamon, and salt until soft. You should cook them until the water thickens, and the apples absorb most of the water. Then blend this mixture in the blender or mash with a potato masher and finally add apple cider vinegar. This should give you about 240ml of apple sauce.
STEP 2. MEASURE THE GRAINS and THE SWEETENER
Prepare the following ingredients
| | |
| --- | --- |
| Rolled oats | 270gr |
| Sliced almonds | 70gr |
| Pumpkin seeds | 70gr |
| Sunflower seeds | 50gr |
| Sea salt | a pinch |
| Dried coconut flakes | 60gr |
| Raisins or dried cranberries | 100gr |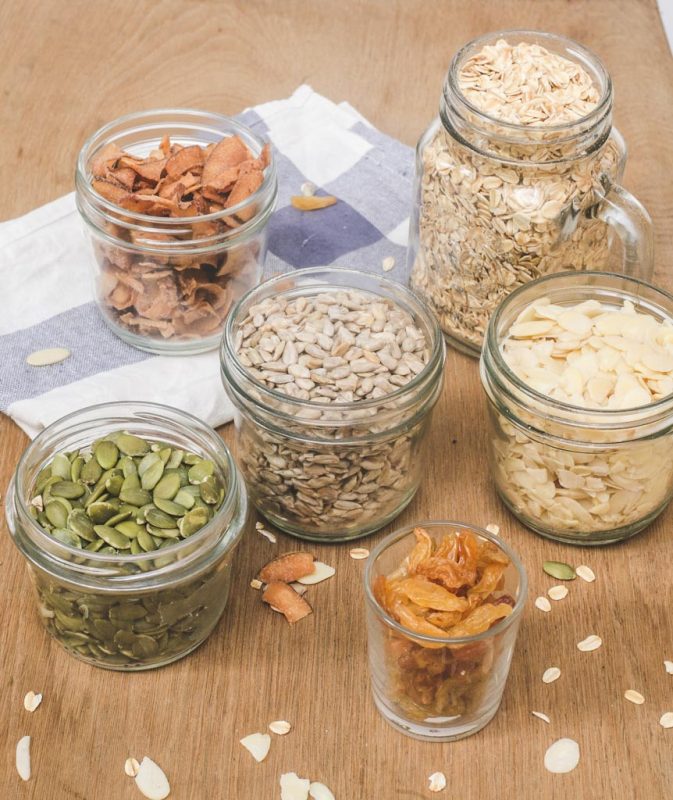 For adding the sweetener (liquid phase), mix together the following ingredients: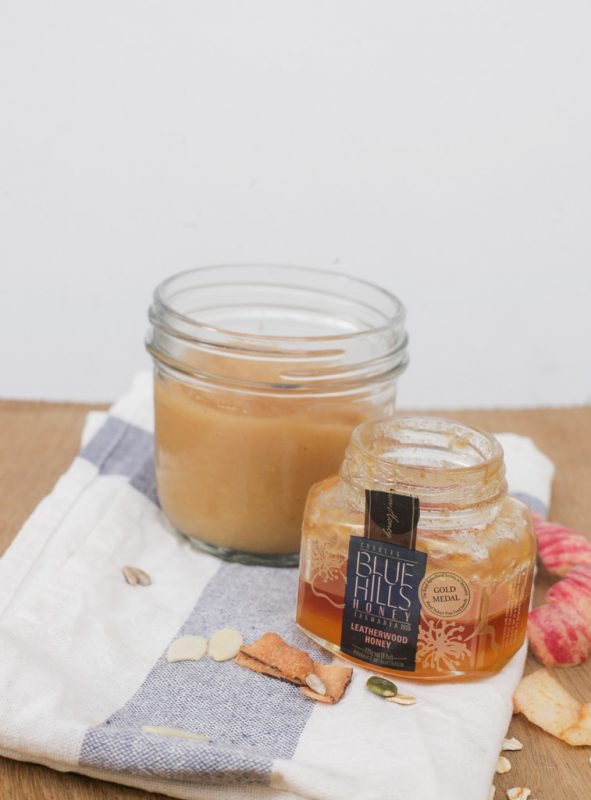 | | |
| --- | --- |
| Apple sauce | 60ml |
| Coconut oil or melted butter | 113gr |
| Honey | 60ml |
STEP 3. MIXING
Mix all the dry ingredients (grains and nuts) EXCEPT for the coconut flakes and the raisins.
Pour the honey, apple sauce and butter into the dry mixture and mix them well together.
STEP 4. BAKING
Set oven to 180°C and preheat for 15-20 minutes.
Spread your mixture over the baking tray. It should be about 1cm thick for even baking.
Bake granola until it turns a nice golden color. If your oven doesn't have even heat, make sure to stir and turn the mixture a few times to bake evenly.
When the mixture turns golden, you can now add the coconut flakes and bake for 5 minutes more.
Take it out of the oven, then toss the raisins in, and mix well.
Let it cool down and voila! You're done.
Your granola will be a bit sticky fresh out of the oven, but it will crispen up as you let it cool down.
Store it in an airtight container for up 2 weeks. Or you can keep it in the freezer for up to 3 months.
So that's it. Let's enjoy some granola!